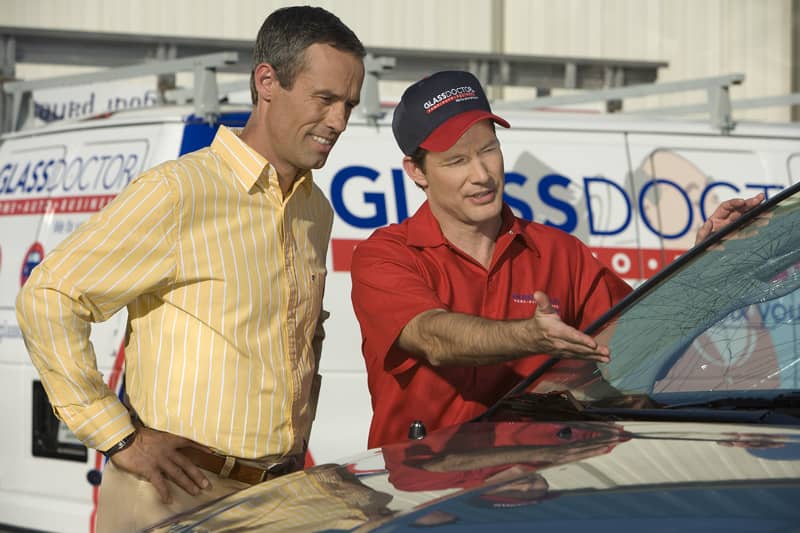 Auto Glass
Glass Doctor service specialists are fully trained and capable of repairing or replacing windshields and all other forms of auto glass.
You can trust your vehicle to the Glass Doctor certified auto glass specialists. Today automakers are including more and more technology into your car's auto glass, and our specialists keep up with the innovations. For example, you may not realize that your auto glass could contain heating elements, rain detectors, radio antennas, and temperature sensors. Our certified auto glass specialists know that these are just a few of the many things to keep in mind when getting your car or truck back to new.
Windshield Repair

Glass Doctor service specialists can repair small chips in windshields before they become a large cracks which are more expensive to replace and can compromise vehicle safety. These repairs can be made in around an hour and often times covered by your car insurance companies.

Why repair instead of replace?

It's convenient: Glass Doctor specialists typically repair your windshield within an hour, getting you back on the road and on with your day.
It's inexpensive: Repairing your windshield is far more economical than replacing the whole windshield.
For insurance advantages: Because of the economic advantages of repair vs. replacement, many insurance companies will waive your deductible and pay for the windshield repair.
It's safe: Repairing your windshield keeps the original factory equipment intact.
It's environmentally responsible: Repairing your windshield keeps your old glass out of a landfill, where it will stay forever.

Windshield Replacement

If a crack is too big to be repaired Glass Doctor can replace the auto glass on any vehicle from the back window of a hatchback to an RV windshield. Your auto glass will be back to the way it was when the vehicle first rolled off the line and we'll even handle filing the insurance paperwork.

Is your best option replacement or repair?

Size and severity: Though there are a few exceptions, chips larger than 3/8 inch and cracks more than three inches long generally require windshield replacement.
Locations: Cracks near the edge of the windshield typically require replacement due to their tendency to spread. Chips directly in your line of vision often require replacement as well, as repairs often do not cure clearly, leaving disruptions in your line of vision.
Timespan: The longer you leave chips and cracks unaddressed, the more likely dirt will build up making it difficult to perform a successful repair and requiring a replacement.

Auto Glass Replacement

At Glass Doctor, auto glass of all types is a specialty. We replace damaged auto glass ranging from door windows to back windows to windshields and more - every day. Of course, you might not need replacement, so we handle all sorts of autoglass repairs as well.

Don't worry if your auto glass is broken by vandalism, burglary, tree limbs or hail stones. Glass Doctor replaces and repairs all kinds of auto glass for all car, truck, and other vehicle makes and models: door windows, sidelites, vents and back glass. From simple windshield chip repairs to full car window replacement, we do it all. We also work with your insurance company to make sure your claim is filed quickly.
Schedule Service Call