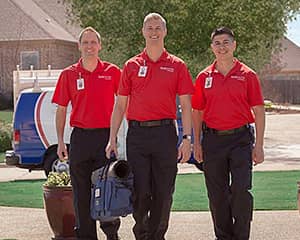 From windows to windshields to storefronts, Glass Doctor can handle any glass need.
Glass Doctor also offers custom glass services, such as replacement windows, tub and shower doors and enclosures, entry door glass, mirrors and custom tabletops.
Established in 1962 with one shop in Seattle, Wash., today Glass Doctor offers complete glass repair, replacement and services to the residential and automotive markets at more than 275 locations in the United States and Canada. Glass Doctor began franchising in 1977 and in 1998 joined Neighbourly, an international franchisor of service industry companies. At that time the company's corporate headquarters relocated to Waco, Texas. Now there are more than 175 Glass Doctor franchise owners across the United States and Canada ready to serve you.
Courteous, professional service sets Glass Doctor apart.
Because Glass Doctor specializes in mobile service, its custom-designed service vehicles carry complete inventory and supplies. The company's skilled specialists can provide service almost anywhere, allowing most installations to be completed within 24 hours of the customer's service call. The Glass Doctor team of professionals offers emergency services seven days a week. Emergency services include immediately securing broken windows and doors with plywood, measuring openings for new glass, and rush ordering glass from preferred suppliers.
Whether the on-site call is an emergency or not, Glass Doctor service specialists will treat their customers' homes and businesses with respect. For example, service specialists wipe their feet on special Glass Doctor mats before entering, wear shoe covers while inside the home or business, and remove glass and excess materials upon leaving.
Hear From Our Satisfied Customers
We've helped thousands of homes and businesses throughout your area.
Read Testimonials »